ruhengeri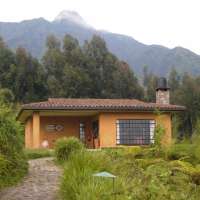 sabinyo silverback lodge ruhengeri rwanda, sabyinyo lodge rwanda, safari lodges in rwanda. luxury safari lodge in rwanda. Lodges in Rwanda, lodges accommodation in Ruhengeri. Dramatic. Thrilling. Poignant. The wildlife experience of a lifetime The lodge is only minutes away from the headquarters of the Parc National des Volcans from where gorilla trekking starts . The lodge, situated on the foothills of the mighty Virungas, the chain of 15,000 ft volcanoes stretching through Rwanda, U ...
Read More...
+256.392.897.704 +44.790.863.9450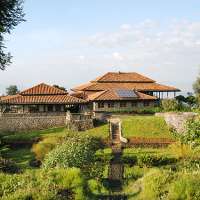 Virunga lodge PNV rwanda,safari lodges in rwanda, virunga safari lodge, luxury safari lodge accommodation in rwanda, Virunga lodge Parc National des Volcans The magnificent Virunga Lodge, set on a stunning hillside, has 8 bandas with a panoramic view of the Virunga volcanoes and the lakes Ruhondo and Bulera. The terraced gardens on this high ridge are now well established, with a magical sunken paradise garden as their focal point. Aside from gorilla tracking, clients can climb a volc ...
Read More...
+256.392.897.704 +44.790.863.9450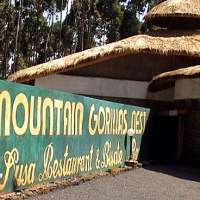 Gorillas nest lodge ruhengeri rwanda, rwanda safari lodges, safari lodges in ruhengeri rwanda, gorillas nest lodge rwanda> safari lodges volcanoes national park Rwanda Gorilla's Nest Lodge is in close proximity to the Parc National des Volcans. Gorilla's Nest Lodge has been built under trees with the rooms set around an African style courtyard. The rooms are large,each with en-suite facilities. There is a big restaurant with a bar an African safari style reception area. Gorilla's Nest ...
Read More...
+256.392.897.704 +44.790.863.9450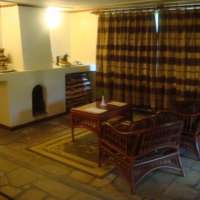 gorilla mountain view lodge ruhengeri, rwanda safari lodges, gorilla mountain view lodge rwanda, gorilla view safari lodge rwanda, safari lodges rwanda. mountain gorilla view lodge stands amidst real wilderness with panoramic views of Rwanda's volcano mountains and located just 1km away from the Volcano National Park, making it the ideal choice of gorilla trekking clients. mountain view lodge cottages are designed in contemporary African furniture and fittings with original artworks framed ...
Read More...
+256.392.897.704 +44.790.863.9450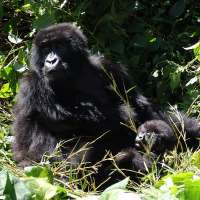 Parc National des Volcans - PNV protects the Rwandan side of the Virunga volcanoes, a range of six extinct and 3 live volcanoes which border Uganda, Rwanda and DRC. The highest peak ,Karisimbi reaches 4,507m. The volcanoes shelter some of the last remaining mountain gorillas of the world and are renowned for the work of the famous American primatologist Dian Fossey. With some of the most breathtaking scenery of Africa, Parc National des Volcans now hosts a range of activities including a num ...
Read More...
+256.392.897.704 +44.790.863.9450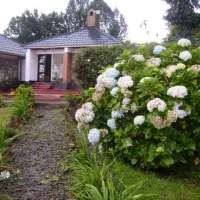 Kinigi guest house ruhengeri rwanda, guest houses and accommodation in ruhengeri rwanda, accommodation in the virungas rwanda, cheap accommodation and guest houses in kinigi. Kinigi guest house is an ideal base for gorilla trekking given it's proximity to the park headquarters. the accommodation is cheap, affordable, fairly basis but functional. Kinigi guest house is a very popular choice for gorilla trekkers in the virungas in rwanda. The boutique guest house is very intimate and has a co ...
Read More...
+256.392.897.704 +44.790.863.9450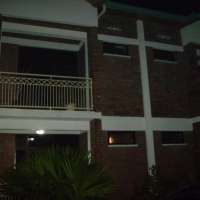 La Palme Hotel Ruhengeri Musanze. Hotel accommodation in Ruhengeri Rwanda.La Palme Hotel near Kinigi. Hotels in Rwanda La Palme hotel is located only 10 km away from the famous Volcanoes National Park. Access to gorilla trekkingbegins in our lively city of Musanze, situated at the base of the entrance of the park. Musanze has long been the base point for gorilla visits and entertains a stunning backdrop of Karisimbi, Bisoke, Sabyinyo, Gahinga and Muhabura volcanoes. La Palme Hotel count ...
Read More...
+256.392.897.704 +44.790.863.9450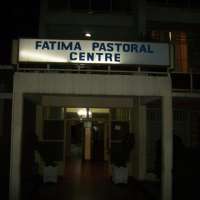 Centre Pastoral Notre Dame du Fatima-Ruhengeri A catholic run guest house in Ruhengeri. It is only a 5 minute walk to Ruhengeri town and on clear days all the commanding views of the Virunga Volcanoes can be enjoyed from the accommodation guest house. The gorilla trekking head office at Kinigi is only about 45 minutes' drive away and transport to the gorilla trekking assembly point can be arranged the day before in ruhengeri. The guest house staff are great and food in the restaurant g ...
Read More...
+256.392.897.704 +44.790.863.9450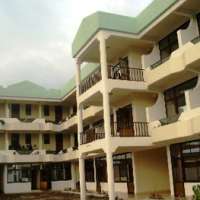 Accommodtion in Ruhengeri,hotels in ruhengeri, Virunga hotels,cheap accommodation in Virunga. VIRUNGA HOTEL, is a hotel located in the Northern Province of Rwanda, in Musanze District, 85km from Kigali and 25km from the Ugandan border. Virunga Hotel is only about 15 Minutes drive from the Volcanoes National Park, home of the famous Mountain Gorillas. The Hotel has 25 self-contained Modern rooms fully equipped with Satellite TV, Internet access, a fridge for your refreshment and an exte ...
Read More...
+256.392.897.704 +44.790.863.9450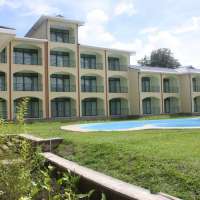 Gorillas Volcano Hotel-Musanze, hotel accommodation in Ruhengeri, discounted hotels in ruhengeri and kinigi. Gorillas Volcano Hotel is situated in Musanze, and only 20 minutes from the park headquarters, making gorillas volcano hotel an ideal overnight choice for gorilla treks. The hotel is owned by the famous hotel gorillas group in Kigali. Perfect affordable accommodation in Ruhengeri. stay with us, when you are in Rwanda to spend a memorable moment with the gentle giants of the Viru ...
Read More...
+256.392.897.704 +44.790.863.9450
Destination Options