Rwanda safari lodges. Safari Lodges in PNV Rwanda. Mountain Gorilla View Lodge. Sabyinyo Silverback Lodge Rwanda.
Find listed here some of Rwanda's best safari lodges. We have catered for high end upmarket travellers, who can afford the luxuries of Sabyinyo Silverback Lodge and Virunga lodges in the Virungas Rwanda. . Also listed are mid-range safari lodges of the ilk of Gorillas Nest Lodge and  Mountain Gorilla View Lodge in Ruhengeri.
We also assist clients with reservation for Akagera Game Lodge, Nyungwe Forest Lodge, Ruzizi Tented Lodge, Gisakura Guest House, Kinigi Guest House, Bethany guest house, Cormoran Lodge, Volcanoes Gorilla Hotel, La Palme Hotel etc-all these are listed on the website, in their respective categories.
While on a safari tour to Akagera choose either Ruzizi Tented Lodge or Akagera Game Lodge. In Nyungwe we recommend either Nyungwe Forest Lodge(Luxury lodge) or Gisakura Guest House.In Kibuye it is either Cormoran Lodge (luxury lodge) or Bethanie Guest house or Moriah Hill Resort. If you find yourself in Gisenyi Rwanda, then we recommend that you consider Lake Kivu Serena Hotel, Paradis Malahide Resort or Inzu Lodge.
For gorilla trekking tour accommodation in Volcanoes National Park, options including the high end lodges of Sabyinyo Silverback Lodge, and Virunga Lodge. Mid-range lodge options include Mountain Gorilla Vew Lodge, Gorillas Nest Lodge and Le Bambou Lodge. Budget travellers need to consider Kinigi Guest House or Muhabura Hotel as our picks.
Contact us for your safari lodge or hotel booking in Rwanda.
This email address is being protected from spambots. You need JavaScript enabled to view it.
Results 1 - 12 of 12
This Category · All Listings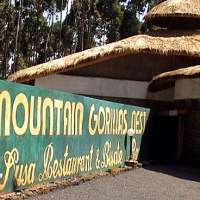 Gorillas nest lodge ruhengeri rwanda, rwanda safari lodges, safari lodges in ruhengeri rwanda, gorillas nest lodge rwanda> safari lodges volcanoes national park Rwanda Gorilla's Nest Lodge is in close proximity to the Parc National des Volcans. Gorilla's Nest Lodge has been built under trees with the rooms set around an African style courtyard. The rooms are large,each with en-suite facilities. There is a big restaurant with a bar an African safari style reception area. Gorilla's Nest ...
Read More...
+256.392.897.704 +44.790.863.9450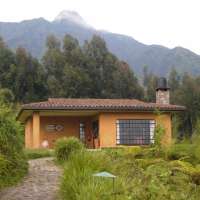 sabinyo silverback lodge ruhengeri rwanda, sabyinyo lodge rwanda, safari lodges in rwanda. luxury safari lodge in rwanda. Lodges in Rwanda, lodges accommodation in Ruhengeri. Dramatic. Thrilling. Poignant. The wildlife experience of a lifetime The lodge is only minutes away from the headquarters of the Parc National des Volcans from where gorilla trekking starts . The lodge, situated on the foothills of the mighty Virungas, the chain of 15,000 ft volcanoes stretching through Rwanda, U ...
Read More...
+256.392.897.704 +44.790.863.9450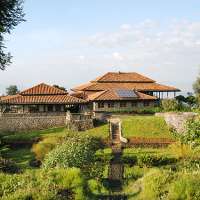 Virunga lodge PNV rwanda,safari lodges in rwanda, virunga safari lodge, luxury safari lodge accommodation in rwanda, Virunga lodge Parc National des Volcans The magnificent Virunga Lodge, set on a stunning hillside, has 8 bandas with a panoramic view of the Virunga volcanoes and the lakes Ruhondo and Bulera. The terraced gardens on this high ridge are now well established, with a magical sunken paradise garden as their focal point. Aside from gorilla tracking, clients can climb a volc ...
Read More...
+256.392.897.704 +44.790.863.9450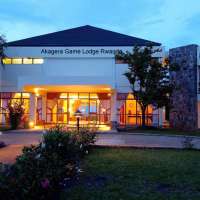 akagera game lodge, rwanda safari lodges, safari lodges in rwanda, akagera game lodge.game lodges in akagera, accommodation in akagera national park-rwanda Akagera Game Lodge lies in the North East of Rwanda within the 90 000 ha Akagera National Park . Its location is in the eastern province. Akagera Game Lodge sits majestically on a ridge overlooking Lake Ihema amidst a mosaic of grass, bush and varied terrain of hills, deep valleys, lakes and marches. Recognised as a superior venu ...
Read More...
+256.392.897.704 +44.790.863.9450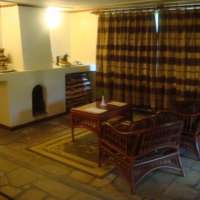 gorilla mountain view lodge ruhengeri, rwanda safari lodges, gorilla mountain view lodge rwanda, gorilla view safari lodge rwanda, safari lodges rwanda. mountain gorilla view lodge stands amidst real wilderness with panoramic views of Rwanda's volcano mountains and located just 1km away from the Volcano National Park, making it the ideal choice of gorilla trekking clients. mountain view lodge cottages are designed in contemporary African furniture and fittings with original artworks framed ...
Read More...
+256.392.897.704 +44.790.863.9450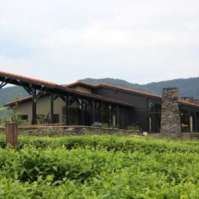 nyungwe forest gisakura rwanda, forest lodges in nyungwe rwanda, safari lodges rwanda, nyungwe safari lodges and accommodation>safari lodges in rwanda. The lodge, built to blend in with the surrounding environment is situated in a tea plantation on the edge of the Nyungwe closed canopy rain forest, home to 13 species of primate including Chimpanzees. nyungwe forest lodge has lots of facilities on offer: Bistro with outdoor heated swimming pool Boma area for outdoor dining and drinks R ...
Read More...
+256.392.897.704, +44.208.765.1058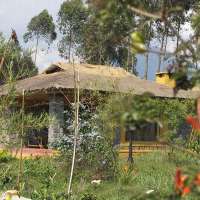 kinigi safari lodges, lodges in kinigi rwanda, accommodation in kinigi, cheap gorilla trekking accommodation, safari camps in kinigi, lodges in Ruhengeri>le Bambou Gorilla Lodge Rwanda The Lodge near the mountain gorillas!Le Bambou Gorilla Lodge>Kinigi>Rwanda. The closest you can get to the volcanoes and gorillas, while you are in your own room in Rwanda. Le bambou Gorilla safari lodge, is the latest addition(october 2010) to luxury accommodation in Kinigi and the Virunga in Rwanda. The l ...
Read More...
+256.392.897.704, +44.208.765.1058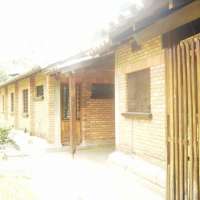 Gisakura Guest House, Nyungwe Forest is located the maint entrance of Nyungwe forest Lodge. Gisakura Guest house is in the same vicinity with the Rwanda Development Board (RDB) offices. Gisakura guest house is on the main road of cyangungu-Kigali, a few kilometres fron Cyangungu town. Gisakura Guest house, is a guest house to Nymgwe forest which is a habitat of severals primates like chimpanzees,monkeys and birds.
+256.392.897.704, +44.208.765.1058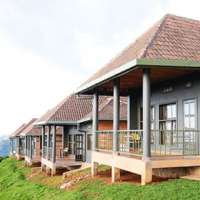 Nyungwe Top view hill hotel is idyllically situated on top of one of the hills of Nyungwe forest area; the largest single forest block in East Africa and the biggest water reservoir for Rwanda. Nyungwe Top view hill hotel offers very beautiful and awesome accommodation facilities Nyungwe Top View Hill lodge boasts 12 self contained cottages of which 4 are twin and 8 queen size bed apartments that come with a sitting room . In the sitting room there is a fire place to keep you warm up and a ...
Read More...
+256.392.897.704 +44.790.863.9450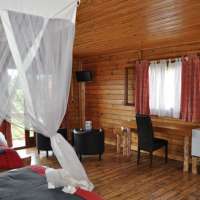 Cormoran Lodge Lake Kivu>luxury accommodation Kibuye Rwanda> Lake Kivu safari Lodges Rwanda> lodges in Kibuye Rwanda>Cormoran Lodge Rwanda Cormoran Lodge is a new Lodge built on the shores of Lake Kivu Rwanda, a beautiful lake of turquoise blue, one of Rwanda's tourist attraction Cormoran Lodge has five cabins and a restaurant built entirely of wood. They are uniquely designed, each cabin is spacious and en-suite. You will enjoy a breathtaking view of the lake and the surrounding island ...
Read More...
+256.392.897.704 +44.790.863.9450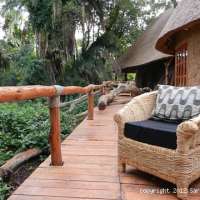 Travellers have been yearning for more accommodation options in Akagera National Park. Ruzizi Tented Lodge fills that so badly needed accommodation options gap for visitors to Akagera National Park Rwanda. Ruzizi Tented Lodge Akagarea National Park is safely and conveniently situated away in the riverine forest on the edge of Akagera's largest lake. Ruzizi Lodge is a small boutique private camp that offers 7 en-suite tents spread along the forested lake shores, with shades of massive trees ...
Read More...
+256.392.897.704, +44.208.765.1058

Safari Lodges Volcanoes National Park, Villa Gorilla Boutique Hotel Volcanoes National Park, Kinigi Guest Houses. Villa Gorilla Boutique Hotels, is a boutique hotel in Volcanoes National Park, accommodation option where one can relax before and after their gorilla trek or tour at Volcanoes National Park. The Boutique Hotel is about 2 hours drive from Kigali international airport and 5 minutes form the park headquarters. Villa Gorilla is a luxury convenient hotel, a home away from home off ...
Read More...
+256.392.897.704, +44.790.863.9450
Destination Options